Washington, DC – October, 28 2022  – TDI is pleased to announce that its CEO, Paul Innella, has been shortlisted for Cybersecurity Influencer of the Year in the 2022 Cyber Security Awards. The Cyber Security Awards were established in 2014, to reward the best individuals, teams and companies within the cyber security industry. Excellence and innovation are core themes, throughout all categories. The Cyber Security Awards team reviews the industry, looking for the best possible applicants. We encourage all those who are committed to progressing the industry to apply.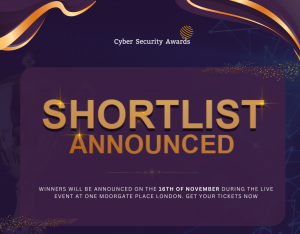 The winners this year will be announced in a ceremony held on November 16th at One Moorgate Place, London
Paul Innella has over 25 years of executive and cybersecurity experience. He founded and built TDI which offers cybersecurity services to hundreds of government agencies and commercial clients. He is recognized cybersecurity SME and corporate executive who has published articles, lectured, and conducted interviews (ABC, Fox News, Forbes, MSNBC). He established and chairs the charitable cyber-focused "White Hat USA" which raises money for Children's Hospital. He is a board member in many private companies, JMU, Children's Hospital, WashingtonExec's Cyber Security Council, and Chair of Children's Corporate Advisory Council. He graduated from JMU, attended graduate courses at Johns Hopkins, and Executive Programs at Cambridge, IMD, U. of Edinburgh, and U. College of Dublin.
​"It's an honor to have made the shortlist and to be recognized for the new thinking we've brought to market. We have been working tirelessly to increase public awareness around cybersecurity performance management. We need greater industry engagement to provide organizations the ability to not only see new insights around risk, but how to chart a course for increasing levels of cybersecurity maturity and overall effectiveness." – Paul Innella, CEO
About the Cyber Security Awards
Taking place online, finalists are being encouraged to include as many of their team as possible. There will be a competition for the best picture shared on social media with the hashtag #cyberawards2022. We hope that organisations take this as an opportunity to celebrate remotely with their teams, rewarding the hard work that we know security teams have been doing this year.
About TDI
Founded in 2001, TDI has grown into a world-class consulting firm offering cybersecurity services and innovative solutions to government agencies and commercial clients around the world. TDI's MCP offering delivers stress free, comprehensive and instantaneous visibility into your entire cyber environment for a holistic interpretation of where you are in relation to your cybersecurity goals. Hassle-free industry-specific reporting in just a few clicks. Automate repetitive tasks and save your team time and effort while also delivering accurate reports to senior leadership and the Board. Our platform scales and ties everything together showing you how well you are performing against known Cyber Performance Indicators and what needs improvement/attention. CnSight®, our Cybersecurity Performance Management platform, is the proud winner of the Cybersecurity Excellence Awards 2 years in a row! TDI is a cybersecurity firm with over 20 years of experience and millions of  hours securing clients globally.
To learn more, please visit the TDI website or follow them on LinkedIn and Twitter.