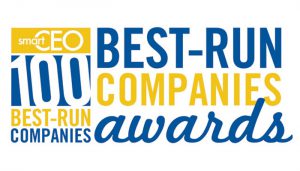 Lanham, MD – TDI has been selected as a 2012 SmartCEO100 Best-Run Company, a program by SmartCEO magazine. This prestigious accolade honors 100 companies that are leaders within their industries and have experienced consistent growth. The SmartCEO100 Best-Run Companies program is a (gated) community of the 100 most proactive, profitable companies in the region. SmartCEO will honor these companies with three exclusive events in 2012 including a black-tie soiree, a book launch party and a leadership conference. Additionally, this selected group will be profiled in the SmartCEO100 Book to be released in September.
"The Best-Run Companies have the vision, talent, customers and internal processes in place to serve as strong examples to others in their markets and industries," says SmartCEO group publisher Jaime Nespor. "These companies have stood the test of time and have a proven track record of outperforming competitors. Their brand has created a strong reputation in the community they serve and we are very proud to recognize them and wish them continued success."
Each member of this exclusive group of 100 CEOs has the opportunity to connect with other like-minded individuals at three major events throughout the year. The 2012 Best-Run Companies black-tie event, which took place on June 13, 2012 at The Carlyle Club in Alexandria, VA, kicked off the celebration of this year's recipients in Washington. The evening featured a sit-down dinner, dancing, a live performance by band Escapade and comedy by Kelly Terranova.
The book launch party will take place on Sept. 27, 2012 from 6:00 to 8:30 p.m. in the Lexus Presidents Club and Nationals' home dugout at Washington Nationals Park. Guests are urged to bring their cleats and gloves as batting practice, private tours of the press room, clubhouse and dugouts and racing president mascots will be available for entertainment throughout the evening. At the private cocktail reception, the SmartCEO100 Book will be unveiled. This 13th edition of SmartCEO magazine will give the SmartCEO100 group the opportunity to tell their story to over 135,000 CEOs throughout the Mid-Atlantic.
The final event of the year will bring together the Best-Run Companies in the Mid-Atlantic. On Dec. 13, 2012 over 500 decision-makers will attend the SmartCEO100 Mid-Atlantic Best-Run Companies Conference, the most comprehensive leadership conference for Mid-Atlantic CEOs. This all-day event will feature high-level speakers, breakout sessions and an awards program to select the SmartCEO Best-Run Companies in the Mid-Atlantic. SmartCEO is proud to celebrate the Best-Run Companies alongside Washington-area corporate partners, The Capitol Bay Group, M&T Bank, Pillsbury Winthrop Shaw Pittman LLP and Matthews, Carter & Boyce, PC. The conference will be held at the Baltimore Hilton in Baltimore, MD.