We've been busy here at TDI for the last month and we've been hard at work on producing some big content. Here are the highlights of our regular blog content, but keep an eye out on our blog page, Twitter, and LinkedIn to see the latest from us. 
This month, we were happy to announce that for the second year running, CnSight was nominated for the Cybersecurity Innovation of the Year award at the CyberScoop 50 Awards. Additionally, our CEO Paul Innella was nominated for the Cybersecurity Visionary award and our VP of Solutions Jesse Dean was nominated for Industry Leadership. We also put out a blog post highlighting the two most important dashboards in CnSight. More information can be found below, or by checking out each of those blogs individually.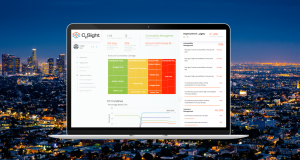 [August 26th, 2022] CnSight – Getting to know the Operational and Executive Dashboards — At its core, CnSight is a platform that centralizes key cybersecurity data from all the disparate security tools across your organizational structure to transform how manage the business of cybersecurity. Understanding the Operational and Executive dashboards are critical to getting the most value out of CnSight. Thankfully, we've gone to great lengths to make it as easy and intuitive as possible, so you should be able to hit the ground running. You can find the rest of the blog post here.

[August 30th, 2022] Why Credit Unions Should Leverage Managed Cybersecurity Performance — Increased cyber risk and looming regulatory oversight has left credit unions, who generally have significantly fewer resources than the top commercial banks, in a precarious position. Lacking in resources to heavily invest in cybersecurity, credit unions and small banks have no way of competing with the cybersecurity budget of the biggest banks in the country. With how heavily data breaches can harm a business' reputation, and how important consumer trust is in banking decisions, it's no surprise that the risk demands their utmost attention. You can find the full blog post here. 

[August 31st, 2022] CnSight Nominated for Cybersecurity Innovation of the Year — We are proud to announce that CnSight has been nominated as the Innovation of the Year in this year's CyberScoop 50 Awards! We're also incredibly proud to have our CEO Paul Innella nominated in the Cybersecurity Visionary category and our VP of Solutions Jesse Dean for Industry Leadership. They have been an integral part of our success, and we are over the moon to have them recognized by the industry. Voting has already begun, and you can vote here.