Not just protecting the bottom line.
TDI embraces participation in and giving back to our cyber and at-large communities. Philanthropically, we take part in and sponsor events for children, battling cancer, soup kitchens and more. Combining professional networking and philanthropy, we founded a major cyber gala, White Hat, which has raised nearly $2M for children. To engage academia and grow future cyber leaders, we sponsor a cybersecurity fund and hackathons at universities. At TDI, we put our money where our mouth is and get involved, from academia to professional associations to philanthropic endeavors in our communities.
TDI is committed, financially & thru volunteering, to dozens of philanthropic causes, especially Children's National.
Since our inception, TDI has given money and time in support of: sick, homeless, & adopted children; veterans; humane societies; United Way; public broadcasting; numerous cancer-fighting organizations; local parks & recreations; the poor and homeless; the National Zoo; Special Olympics; schools for girls; and the list goes on – seemingly without end – as does our core belief in charity.
TDI's CEO is co-founder of the White Hat Gala, started with a singular focus – raise money to improve and save the lives of children. White Hat raised nearly $2M for Children's National thus far. Our recipe is succinct: bring together caring people in cyber, amidst an exciting black-tie casino atmosphere, to network and show support for those treated at Children's National. Our CEO also gives generously of his time to Children's as a board member on their Corporate Advisory Council and Foundation Board.
TDI also started the We Win Children's Wins program. Above and beyond our current giving to Children's National, for every new contract TDI wins, we will donate $1,000 to Children's National. Finally, along with other caring companies in the nation's capital, TDI is glad to say we Make March Matter.

To succeed is to participate. We believe strongly in freely sharing our expertise & our R&D work products with the cybersecurity community.
We give to the cybersecurity community, freely, by sharing our expertise, participating in professional associations, and developing R&D cyber tools which we've offered the world as open source.
TDI's recognized cybersecurity experts have published articles (SecurityFocus, Secure Computing, etc.), lectured (ISACA, ISSA, CPM West, GE, NetScout, NACACS, ISACA International, Network Security Conference, Information Security Management Conference, InternetWorld UK, ACSAC, George Mason University, etc.), and conducted interviews (ABC, Fox News, Forbes, MSNBC, EuroNews, Financial Times, Federal News Radio, etc.) to a worldwide audience.
Our engagement with professional cyber associations is at all levels from member at-large to board member. We participate in White Hat, ISACA, ISSA, Association of Old Crows, and many more.
We understand our cyber comrades' needs so we build tools through TDI Labs, our R&D shop, and TDI's Titans program. Our efforts endeavor to advance cyber with usable open source products and shared actionable ideas and expertise. From predictive cyber-threat meters to bootable images for safe pen-testing, TDI has given tools and expertise back to the cyber community.
TDI partners with academic institutions fostering cybersecurity curricula & STEM, including sponsoring cyber programs at schools like JMU
We recognize the future stars of cybersecurity are currently in the hallowed halls of learning at universities across the land. TDI has partnered with a select group of cyber-focused colleges. With Georgetown we worked together to develop a theory on detecting abhorrent behavior on a network thru mathematical modeling and pursued its realization in the SBIR program. We participated in UMD's Bitcamp hackathon and TDI's CEO serves on James Madison University's STEM Executive Advisory Council.
One example of our academic backing is TDI's collaboration with JMU and its Dept. of Computer Science. We started the TDI/JMU Cyber Defense Fund and supported a wide-range of activities which enhanced the CS curriculum, scholarship and outreach. TDI's Fund went towards equipment, travel, workshops, speakers, conferences and competitions like the VA Tech Cyber Capture the Flag Summit where JMU recently ranked 3rd in the competition.
Dr. Simmons, JMU CS Dept. Head, said of us "TDI's support of our Cyber Defense program enables cyber defense related travel and upgraded infrastructure for our program. The students benefit greatly!" TDI believes when they grow, the cyber field grows with them.
Proud recipient of the DOL HIREVets Platinum Medallion
Every November, the nation recognizes Veterans Day to honor and thank all who have served in the U.S. Armed Forces for their service to our country. Here at TDI, we are fortunate to have a number of veterans in our employ. We value our Veterans not only for their commitment and sacrifice to and for our country yet also the unique skills and contributions they bring while providing unwavering excellence to our mission.
TDI is proud to have been recognized by the Honoring Investments in Recruiting and Employing American Military Veterans (HIRE Vets) Medallion Program, the only Federal award recognizing exceptional achievement in veteran employment. We are incredibly and humbly grateful to be an award recipient. More importantly, we are honored to have employees that make this award possible.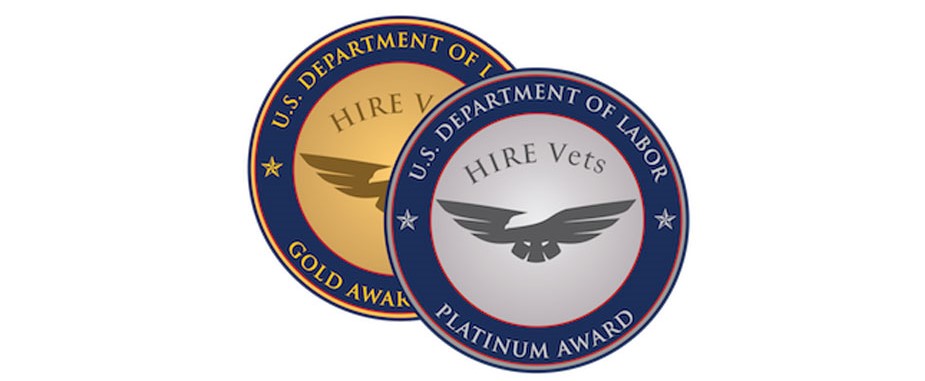 You May Have Seen Us Around